How Whistleblowers are being assassinated in France (Part IV)
Governing is to scare and reassure
Fear is a political weapon
Many citizens are the victims of the lies of our political, economical, financial but also administrative, military, sanitary leaders. For years, whistleblowers from all backgrounds have proved that the truth scares and isolates. It is easier to destroy the lives of the ones who act in conscience, with all goodwill for the sake of the community rather than proposing long-term solutions. However, whistleblowers as defined by the French Sapin II law are not the only ones who alert about the State's wrongdoings: the movie Gibraltar was inspired by the Customs agent Marc Fievet's story. In the numerous interviews given to media, he has for years explained that he had been abandoned by the French administration.
His web site details the situation he had to face: "Undercover as of 1988 on the Costa del Sol and the drug hug Gilbratar, Marc Fiévet, age 43 at the time, operated during six years within the international drug dealers networks.The French Customs teamed up with him to open a restaurant in Estepona, Spain and financed a cargo for him to better infiltrate the world of drug trafficking. He was introduced by the French Customs authorities to the Spanish Customs authorities (SVA), to the British Customs authorities (HM Customs and Excise) and to the US DEA service as being the agent on duty on the Costa del Sol and the Gibraltar zones. During his activity, he contributed to have 100 tons of drugs seized and 97 drug dealers arrested. However, he was also arrested and then sentenced in 1994 in Canada for drug trafficking, without Paris coming to his rescue. Transferred to France, it is only in 2005 that he got out of prison, after ten and a half years in prison. For Marc Fiévet, it is unbelievable that his employer - or his appropriate Minister - has 'abandoned' him in this manner and that the State continues to deny compensation. In 2005, the France 3 program Pièces à conviction disclosed the incredible story of NS55, agent Fiévet's code name whom they met when he got out of prison. Mr. Fievet has since continued to fight for his rehabilitation". His story being "Classified", not a single authority wants to hear about this story anymore.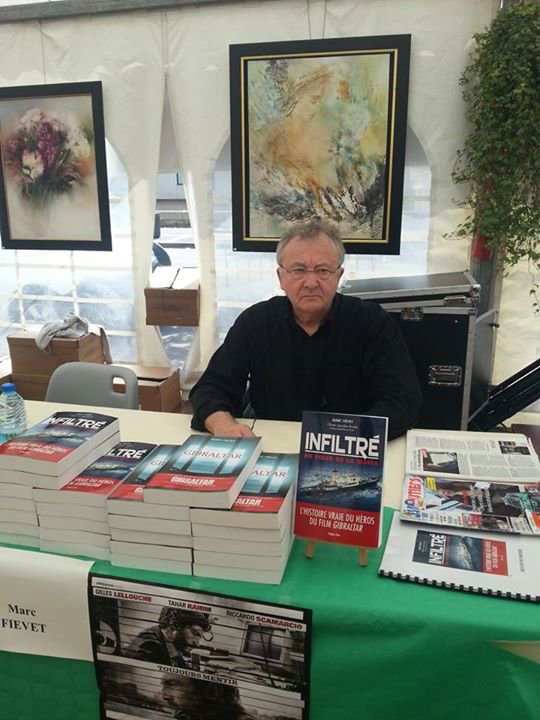 Photo:

Marc Fiévet

during

the

book

signing for

"Infiltré" –

personal

collection
On March 2nd, 2021, more than fifteen years after getting out of prison, after a journey as unfair as it is cruel, the former undercover announces the unthinkable on his Twitter account:
Marc Fiévet (@marcfievet)
Undercover to serve our country, Mr.Fiévet suffers the same denial as the one which has destroyed my life. One of his last tweets has particularly touched me because he can understand more than anyone else the nightmare I have been suffering on a daily basis for more than ten years when I had to work under the command of French Customs sworn officers: "FRANCE (UBS) : Stéphanie Gibaud devenue agent de renseignement et lâchée par des salauds de Bercy". (Stephanie Gibaud turned into an intelligence officer and was abandoned by bastards in the Ministry of Finances)
We have been used by France because we are ethical and talented. To have served our country so well, we only received lies and arrogance of our State 'elite' in return.
I cannot recall those in favor of the Sapin law be outraged for the shameful fate of Marc Fiévet, hold the State accountable whereas this law ambitions to "bring the French legislation to the best European and international standards as far as fighting corruption is concerned and thus contributes to a more positive image of France abroad"("porter la législation française aux meilleurs standards européens et internationaux en matière de lutte contre la corruption, et contribuer ainsi à une image positive de la France à l'international").



French companies managers also are the victims of our State's malfunctions at the highest level, namely with the direct responsibility of politicians and senior officials. With cowardice, denial and with an extraordinary confidence, boosting their careers and their own interests have turned out to be the daily concern of these 'elites', instead of protecting our strategic interests and the citizens of the country of human rights.
Frédéric Pierucci, is a former Senior Manager working for Alstom, a French energy and transport group. He was the Director of the boilers subsidiary of Alstom Power. Pierucci faced charges of corruption and was indicted by the government of the United States of America. Arrested by the FBI when stepping off a place at the New York JF Kennedy airport in April 2013, he was prosecuted for violation of the "Foreign Corrupt Practice Act", a US extraterritorial law, which allows the USA to use it for the purposes of economic warfare. In fact, the country priding itself as the biggest democracy in the world reproaches the French senior manager to have been aware of Alstom using a consultant who would have paid bribes to Indonesian officials to secure a contract for boilers at a power plant ten years before.
In order to reduce his prison sentence, the French citizen had no other choice than pleading guilty before a prosecutor during the summer of 2013 but his imprisonment, which was supposed to last six months will finally last twenty-five months. Whereas my UBS ex-colleague Bradley Birkenfeld was enjoying a prison treatment where he could welcome journalists for interviews, Frédéric Pierucci's daily life was quite different in a high security prison.
In the book "Le piège américain" (JC Lattès, 2019) co-written with the French journalist Matthieu Aron, he explains what he suffered: « Americans classify the protection level of their prisons on a scale from one to four. The Level 1 prison, called 'camps' usually are for white collar criminals found guilty of financial crimes. The Level 2 prisons are for criminals with short sentences and non-violent prisoners.Then one finds the Level 3, called averaged prisons and hence the high security detention facilities. Wyatt, a high security detention facility is the one where the Department of Justice has decided to imprison me together with the most dangerous criminals of Connecticut, Massachusetts, Rhode Island, Maine and Vermont. I am not a repeat offender nor a dangerous prisoner and this decision is contrary to any kind of prison logic but nobody will ever give me any explanations ».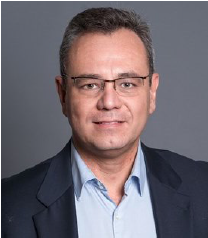 Photo: Frédéric Pierucci, personal collection
The former Alstom Senior Manager explains that he has never got any dime far as the transaction is concerned, that it was then checked by Alstom Legal Director, which is also acknowledged by the US Department of Justice. In vain. The Alstom group and France left him alone to face the world's most powerful nation. Frédéric Pierucci then described his new life: « Imprisoned in a hig security detention facility 15,000km away from my family, fired by a company [Alstom] for which I have been working for more than twenty one years, also abandoned by the authorities of my country which do not want to lift a finger. I have to pay huge legal fees without knowing when I will be get out of prison, nor what my final prison sentence will be ».
Whereas he is imprisoned in Wyatt, Rhode Island, the French prisoner heard on TV that the US group General Electric was negotiating the Alstom Energy division and within it, a link of the French nuclear power plants.
This scandal is frequently presented as an example of economic warfare played by the United States of America on all territories, among which its supposed allies. Must one blame the USA with the extra-territoriality of their laws allowing them to act wherever they decide to? The Americans have some idea of their interests and use methods as aggressive as they are questionable: illegal phone tapping, imprisonment of French (and foreign) citizens, attacks on strategic companies. On the other hand, do we have to continue trusting our French political community which has since the 1990s be a traitor to our own nation while being unable to defend our strategic interests and its endangered citizens? The excellent interview given by Frederic Pierucci to the media Thinkerview in July 2019 answered these questions: « Alstom, la France vendue à la découpe ».
Since he came back to France, Frédéric Pierucci has explained that he ambitions to give our country its industrial sovereignty back (l'ambition de redonner sa souveraineté industrielle à notre pays). We would have liked our political leaders mobilize on his case, the defenders of the Sapin law be outraged at his imprisonment, hold the State accountable whereas the Sapin law ambitions to "contribute to a positive image of France internationally" ("contribuer ainsi à une image positive de la France à l'international"). As far as the Alstom scandal is concerned, the image of France perceived from abroad is far from being positive.
As long as the general population is passive, apathetic, diverted to consumerism or hatred of the vulnerable, then the powerful can do as they please, and those who survive will be left to contemplate the outcome.

Noam Chomsky
Regulated professions are not left out. Would Jérôme Margulis' case be an isolated case where the States deliberately cooperate in order to assassinate a whistleblower? As a statutory auditor at the Paris Court of Appeal, he took an oath in 2007 where he has since been regularly listed. As such, he can legitimately claim to be an actor of the judiciary. As a victim of a fraud committed in organized band involving @com Audit, the sixth French network in the profession, he alerted the ordinal bodies in 2014 before instituting legal proceedings. According to Jérôme Margulis: « Stéphane Cohen, the President at the time of the Paris based Institute of Chartered Accountants, in violation of ethics and laws, decided to cover up the@com group, "rogue" fellows. Stéphane Cohen hunts the illegal ones among the profession (the ones who work without a proper diploma) and as such, he maintains extremely close relations with the Nanterre financial crime fighting Division. He also is involved in a big scandal relating to a large scam (solar panels - panneaux solaires) ».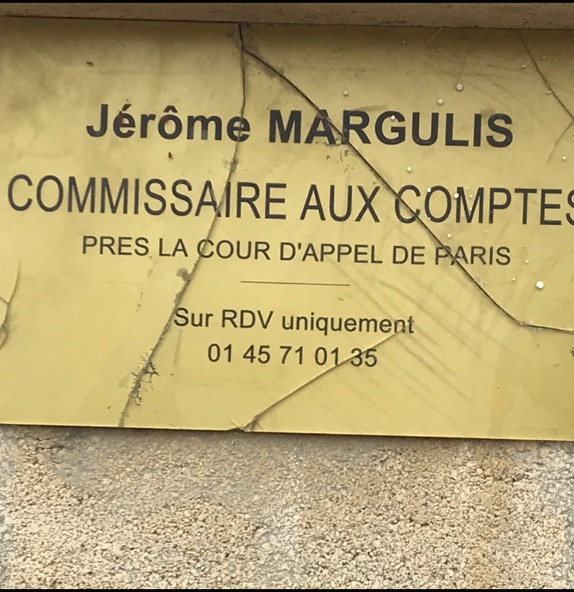 Plate mentioning Jérôme Margulis statutory auditor – Personal collection
Jérôme Margulis was then in a weakened state to assert his rights with credibility. He ensures tha this « professional insurance, the same as his fellows among which some have even taken sides, Verspieren making sure that his claim being uninsured, which is obviously wrong ». However against all expectations, William Nahum, pillar of these professions and President of Honor of the Supreme Council of the Order of Chartered Accountants and of the Company of Statutory Auditors maintained integrity and unexpected courage by deciding to be on Jérôme Margulis' side in what could prove to be a very serious breach of integrity to the whole of the profession. As of that time, his case became extremely sensitive and potentially dangerous for corrupted people. One ignores how the French satiric weekly paper Le Canard Enchaîné heard about the scandal when Nicolas Brimo, Director of the paper then contacted Jérôme Margulis thanks to cell phone communications. An appointment was set for June 10, 2015 after a close-door meeting took place at the Order of Chartered Accountants in Paris where Stéphane Cohen, M. Tholas, William Nahum and Jérôme Margulis discussed the publication of a press article. At William Nahum's request and by loyalty, Jérôme Margulis did not give Le Canard Enchaîné the possibility to publish the facts. William Nahum has then assured Jérôme Margulis that Stéphane Cohen would "fix things".
According to William Nahum's decisions and to the interest raised by Le Canard Enchaîné, the statutory auditor declares that one « agreed by then either to 'find an agreement' i.e. recognize the responsibility of the @com group and obviously take the necessary steps or persist and cover up the @com group which by that time controlled the Viou et Gouron law firm, accomplice of this scam, by deploying "large means" ». Unfortunately, this approach was preferred and then started gang-stalking strategies to destroy Jérôme Margulis.
And that's precisely when Matthieu Creux, a former client of Jérôme Margulis, a e-reputation expert showed up: " Man in the shadows of Valérie Pécresse, he presents himself as a savior but quickly puts on his other hat, the one which destroys anyone who could disturb both his interests and the ones of his business circles, among which several families including the Dassiers and even Xavier Niel whom he is quite close to as a partner, namely within AlloMedia. All have played a role in numerous political campaigns " mentions the statutory auditor, adding: « In his sumptuous offices located rue de Presbourg, with a view on the Triumph Arc, he has even told me that he was related to the manager of the @com audit group and that a bullet in my head can happen ». He quickly threatened Jérôme Margulis. His father, a medical doctor was also targeted by text messages, thus showing the level of impunity he was enjoying: « Matthieu Creux's father, Antoine Creux, a partner in his son's company, then ranked Number Two in the French Air Force and was heading the French military intelligence services ».
In June 2015 however, a dramatic turn of events took place: Jerôme Margulis, who has since 2014 been living in exile in Spain, carefully and discretely managed to trap the tools of the French intelligence services introduced in all his computers with the help of a super powerful Spanish server. This Spanish server suffered an attack of unprecedented intensity at the very moment his machines were analyzed but it held long enough to allow all the computers batteries to be removed in order to analyze the details of the attacks. While tracing the labyrinth used for the hacking, the French official tools were identified as well as the originating IP address. Jérôme Margulis asks: « Isn't this a blatant act of diplomatic incident? ». As of when this incident happened, gang-stalking intensely started to destroy Jérôme Margulis who, as a victim of a scam in January 2014, has only blown the whistle to relevant authorities.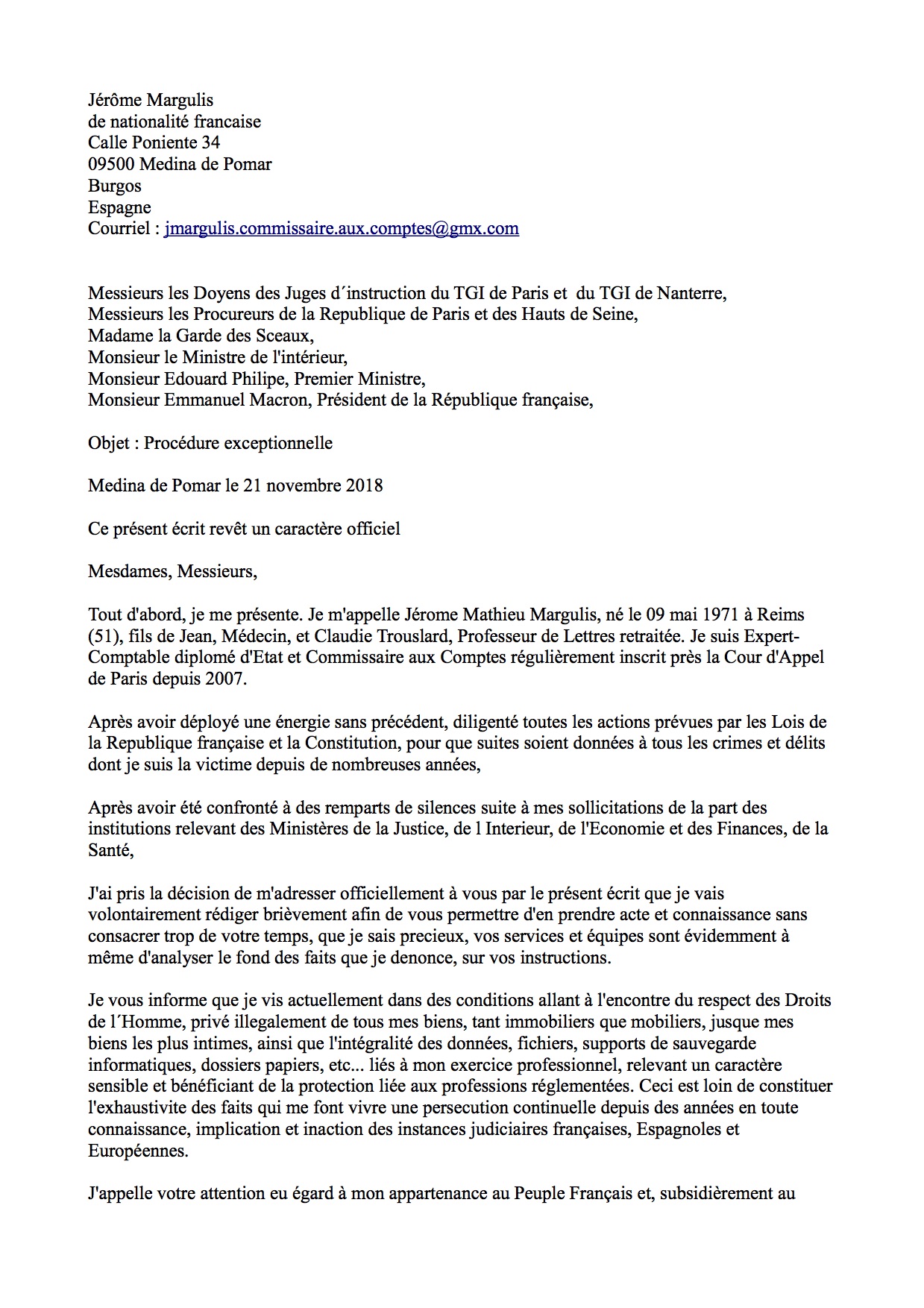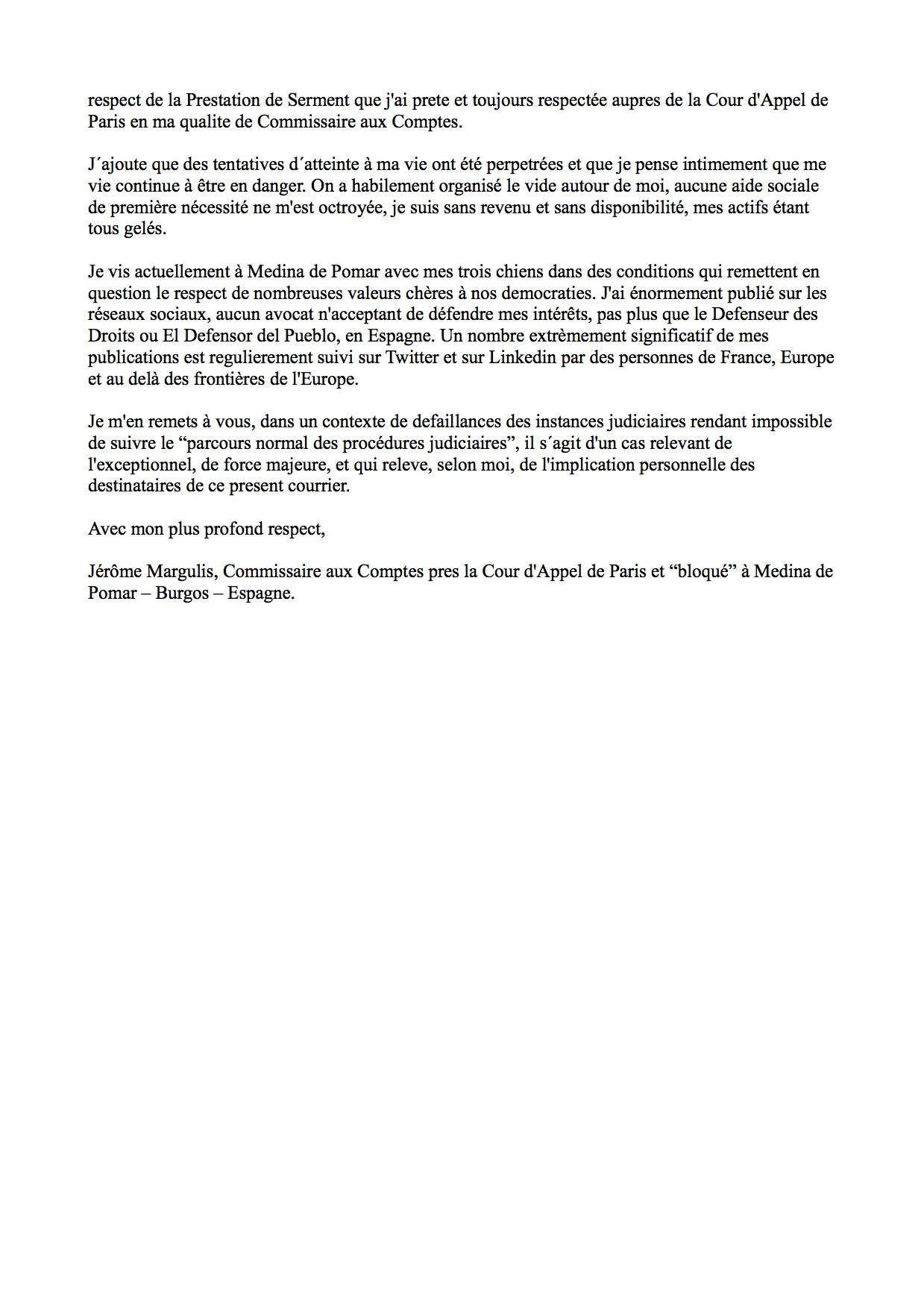 Jérôme Margulis's spiral downward accelerated, he certified that his situation is « perpetrated by a white collar corruption which controls the whole of the State system » . The statutory auditor could only count on the opening of a judicial inquiry to get out of this nightmare. He asserts that a criminal judicial denial would then have taken place, where he found himself "alone against a well organized system. Betrayed by his lawyers, victim of plots made possible by forgery in bailiff's public writing, disturbing judicial procedures and without adversarial procedures etc".
But the exiled Frenchman hadn't given up yet. Engaged in a solitary fight again corruption he had nevertheless taken security measures as far as very sensitive pieces of information are concerned, namely towards the judiciary and the political establishment, political election campaigns accounts which had been audited by his office. He suffers repetitive violences and robberies: on April 21, 2017, the day before the first day of the French presidential election which lead to the "Macronie", Jérôme Margulis – who had already moved to Medina de Pomar in Spain – was summoned to the local civil court, where he went to in order to give a deed. When back home, the judge of this very court, who acted in civil legal proceedings - which Margulis totally ignored - has entered his house, surrounded by emergency services which had arrived from Burgos. Without the presence of relevant services, the three dogs belonging to Jérôme Margulis had been forced into the street, on their own and without any supervision. The statutory auditor's plate had been removed from the door and remained hidden, which he guessed by then was a misunderstanding, however nobody was listening. He would have been said: " Get out of here with your dogs; we declare this house abandoned and the whole content become the landlord's property ". Jérôme Margulis declares that he then called the emergency service of the French Consulate. The person who answered the phone didn't show any surprise and would have declared: " Nobody injured? Nobody's dead? Therefore, it is not an urgency ". This call was recorded while there were no inventory of the content of the house nor any juridical sequester. Both his professional and personal lives were robbed for the benefit of a Spanish citizen. As defined by the Geneva Convention, these practices constitute a crime against humanity in peacetime; they were qualified as such after the practices of Nazi Germany. Files, archives and data relating to former clients then disappeared. Professional secrecy was violated.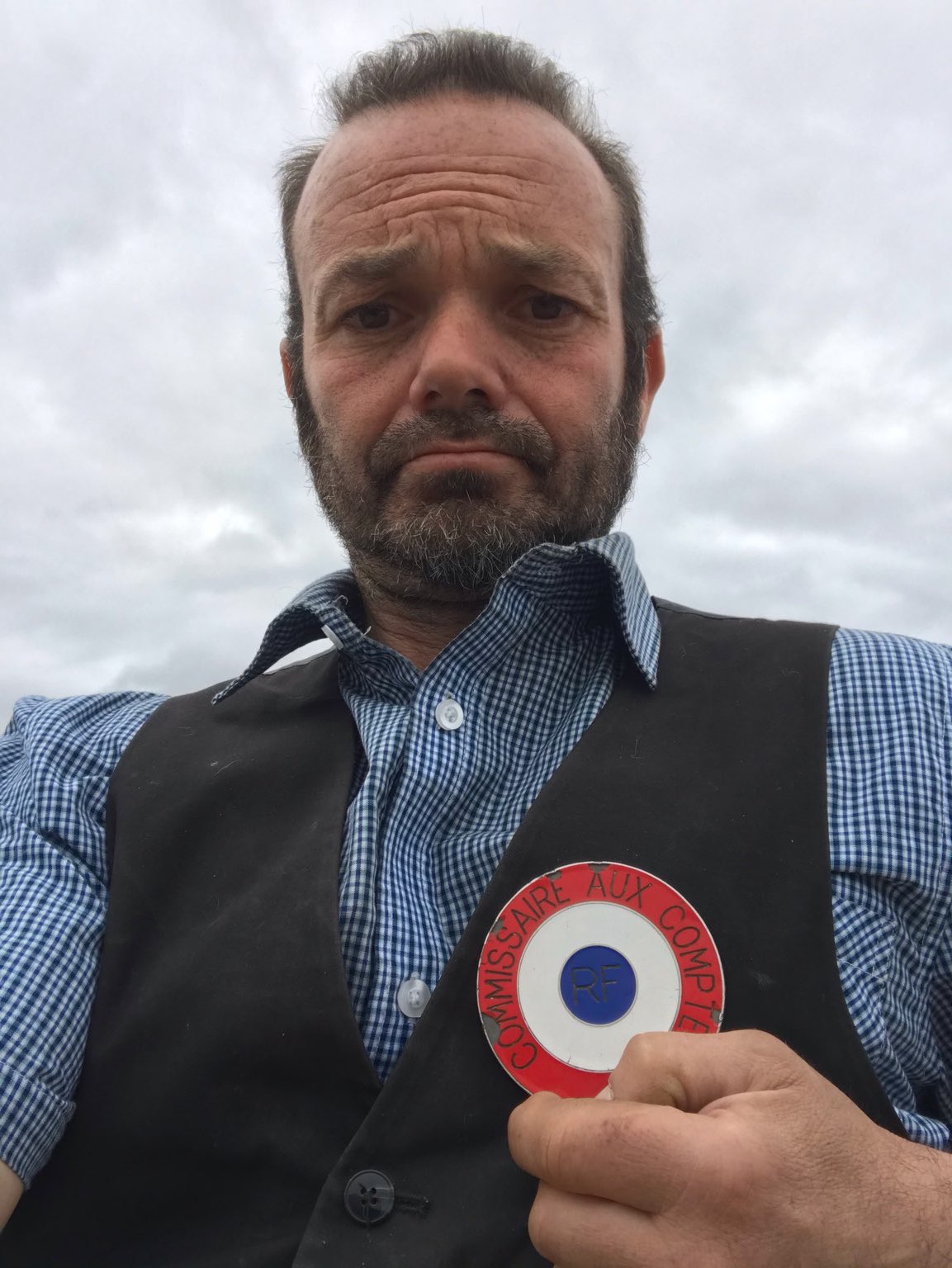 Photo: The statutory auditor Jérôme Margulis – personal collection
He has since lived on a field located 3km away from Medina. The only property in his possession which he has acquired from the Ibercaja bank, which would have been " subject to scams with mafia style practices" with a fraud on the sold property. Surrounded with his dogs, he lives in unsanitary conditions, deprived of his rights – including the rights to access water and electricity – without any assistance, social aid nor support. By means of blackmailing, fear or threats, he says that has been cut off everything. In parallel, the Parisian apartment of the statutory auditor had been subject to public auction without him being informed of the procedure. As of today, he has never been able to obtain a single document relating to the foreclosure procedure in spite of his numerous requests sent to the Enforcement Judge of the Paris High Court in charge of foreclosure and of Esq. Roberte Martin, the ParisVI based lawyer, who made the procedure. Margulis says he knows nothing of the future of his property and that nobody would answer his questions and requests.
Why such a terrible silence of the Enforcement Judge of the Paris High Court in charge of the foreclosure and of the Paris Public Prosecutor? Jérôme Margulis maintains that « deep state actors » have been among his clients. He has many data about them, which would have allowed to commit crimes with impunity. Stuck in Medina de Pomar since April 21st, 2017, he is awaiting to be « delivered » by a legitimate and independent justice.
I have never listened the defenders of the Sapin law be outraged with the situation of Jérôme Margulis, hold the State accountable whereas this law ambitions to "bring the French legislation to the best European and international standards as far as fighting corruption is concerned and thus contributes to a more positive image of France abroad" ("porter la législation française aux meilleurs standards européens et internationaux en matière de lutte contre la corruption, et contribuer ainsi à une image positive de la France à l'international").
This scandal, precisely like the ones of Marc Fiévet and Frédéric Piérucci described above, contributes not to convey a positive image of the country of human rights abroad. Without any possible doubt, our country seriously lacks ethics at its highest level.
Until now, it seems that we have individually and collectively accepted to have left democracy and ethics on the back of a few citizens, assassinated on one side by the indifference of the masses and on the other side by the quite flexible enforcement of laws.
Julian Assange pays an unbearable price his quest for the truth, his will to inform the citizens. The title of a Financial Times article published in January 2021 naturally comes to my mind as it could have been one of Assange's quotes: "Silence isn't golden, whistleblowers are".
For years, with a tremendous courage, whistleblowers have transmitted the keys of truth to the ones who were willing to listen to them. Hasn't time come for all the citizens to grab them in order to open the doors for a better world? And we will be done with whistleblowers.